By Michelle Solomon
November 15, 2022
Burnaway
Paging through Enrique Castro-Cid's notebooks of computations amid ephemera at [NAME] Publications in West Miami transports you into his mind–into a time not too long ago but that registers nostalgic. Before CAD.
The various notes and scribbles, handwritten letters, and photos amassed at [NAME] make you question almost everything.
Protocol Pressure, the exhibit now at [NAME] through Nov. 20, is the first of two exhibitions exploring the work of Castro-Cid, this one centered on work he created in Miami from the late 1970s through the 1980s — when he was focused on experimenting with computer aided software. The artist was born in Santiago, Chile in 1937 and moved to New York in 1961. In 1980, he arrived in Miami where he found the leisurely pace suitable for him to dig deep into his art vis-a-vis technology mindset. On a trip to Santiago in 1992, he died suddenly of a heart attack at the age of 54.
Enrique Castro-Cid, Untitled 1979. Courtesy of [NAME] Publications.
What remains is his obsession with the rules of making paintings. Why must it be? Here, in his own hand, is Castro-Cid's mind working on a way out, an escape from the boxed-in Cartesian or Euclidean geometry, the way in which depth of space needed to be depicted. He says, "Space as an act of reflection is absolute, yet, as a phenomenon presents many forms and gradations."
The works are presented on rectangular canvases but otherwise with no consideration of space. He examines different possibilities. It shows up as infinite numbers, calculations, mathematics, as he explores what would happen to the figures and to the space of painting if you were to combine the two: art and technology.
In the 1986 "Biscayne Afternoon", Castro-Cid shows you his process – the grid is partially showing, the painting put off center with the grid above and to the right. In the 1979 "Blue Nude", the grid is obscured, faintly noticeable. A closer look at the canvas reveals that the edges are bowing. Castro-Cid had put pressure on the canvas itself. Was he leaning into the calculations he had been fixated on? "There's a lonely relationship between a viewer and an orthodox painting," Castro-Cid is quoted as saying.
The way in which Natalia Zuluaga, [NAME] curator and co-director, came upon Castro-Cid's work is one of those meant-to-be stories. She tells me she visited a friend's home in 2014-15 and noticed a drawing on the wall: ink and pencil on graph paper. It caught her eye. "What is this?" she asked, already fascinated. The friend told her whose work it was and then divulged, "I also have this box of notes."
The work that fascinated her so much—Castro-Cid's "Untitled" from 1979—is part of Protocol Pressure and on view now (and so are the notes.)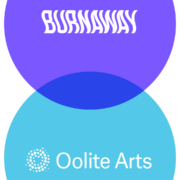 Michelle Solomon
Michelle F. Solomon is a visual and performing arts writer/critic based in Miami, Fla., where the arts never sleep. Neither does she. She's the producer, creator, and host of true-crime podcast The Florida Files.