Tracing Joaquín Stacey-Calle's Memories
By Nicole Martinez
October 11, 2022
Burnaway
Joaquín Stacey-Calle tells me about a wooden coffin he keeps at his father's home. This coffin–a felicitous vessel–holds hundreds, maybe thousands of photographs of Stacey-Calle's family, taken over the years by his father. The artist grew up in Miami by way of Quito, Ecuador. Years ago, when Hurricane Irma threatened to impact Miami with the gale force winds of a Category 4 storm, Stacey-Calle and his father didn't rush to board windows or fill their bathtubs with water. Instead, they hoisted their coffin a half meter high just under their roof, so if the water did come their histories wouldn't wash away along with it. "That sparked something in my mind ever since, about the value we give photographs," he says.
In Miami, we live with the certainty that the water will come, but we build a home in the city anyway. We're trained to live on the edge of the unknown, bracing ourselves for calamity at the mercy of a summer storm system. Many Miamians, like Stacey-Calle, fled some violent or economic turmoil or another to make a home in a strange new land. After losing, rebuilding, and remaking home in so many ways and waves, you learn to embrace starting over and let go of your material attachments in favor of holding onto dear memories.
Stacey-Calle explores this lack of attachment in mixed media paintings that collage his family's photographic relics with architectural and landscape elements native to Miami and Quito. A selection of his paintings are now on view at Laundromat Art Space, an artist-run studio complex with a project space for exhibiting work. We're Here, Pero Alla Tambien, his first solo show, was curated by Laundromat founder Ronald Sanchez and opened the night before Stacey-Calle left Miami–the home he'd known since he was eight years old, and the driving force behind his work–to complete an MFA at the Otis College of Art and Design.
Joaquín Stacey-Calle, Rincon, 2022. Courtesy of Laundromat Art Space and the artist.
Presenting eighteen works, Stacey-Calle's show exhibits the artist's ongoing interest in tracing memory across the immigrant experience. He rescues vestiges from his life in both Quito and Miami and intermingles them, underscoring their similarities and their disparities. A color palette embodying the Creole aesthetics of a Caribbean Miami and the use of materials like spray paint, house paint, and latex allows Stacey-Calle to achieve a 'nowhereness or in-betweenness' that captures the essence of the immigrant experience. Fragments of architecture and plant life–his home in Miami, his home in Quito, the buildings that surrounded his neighborhood there and in Kendall, and the banana leaves so familiar to that landscape–are often the clearer elements within the picture, obstructed with blurred figures and washed out painting techniques. No somos ni de aqui, ni de alla–the title of one of his works and a common phrase uttered by those who know what it means to live in between two places that spark home–guides much of Stacey-Calle's practice, and serves as inspiration for the show.
Stacey-Calle's process is relatively fluid, and begins with sourcing images from his family coffers. He collages as he works, and rarely pre-plans the process. He uses tools like Photoshop's auto selector tool to choose which images work with others, blindly allowing the tool to guide his choices like life might jostle an immigrant from one place to the next. While making his work, Stacey-Calle is most interested in ideas about attachment that immigrants face. "We don't want to get too attached because at some point we might be moving on, and I'm interested in challenging my own attachment to certain aspects of the work," he says.
Together, the curator and artist made the decision to exhibit Stacey-Calle's paintings unstretched, allowing their abstractions to really come forth. The strongest works in the show are those that blend all of these familiar elements into an explosive work of figuration and abstraction, showcasing the particularity of Stacey-Calle's vision. Hogar (2022), a large-scale painting and the show's lead image, is most representative of where Stacey-Calle's work is likely headed as he matures as an artist. Where earlier works tend to be more figurative or literal, painting like Hogar, Rincon (2022) and Home (2022) sees Stacey-Calle loosening his restraint and having fun with a new exploration.
We're Here, Pero Alla Tambien is a fitting tribute as Stacey-Calle leaves his Miami home in search of new directions in his work. Whether he'll remain attached to his primary material will certainly be an interesting experiment.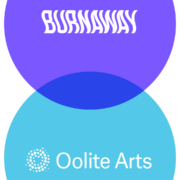 Nicole Martinez
Nicole Martinez is a journalist, filmmaker, and founder and director of Culture Conductor. Her work has appeared in ARTnews, Cultured, The Art Newspaper, Hyperallergic, and Wallpaper*.