WOPHA and the Collective Labor of a Feminist Photography Congress
By Francis Dalena Oliver
January 27, 2022
Burnaway
Last November, a few weeks shy of Miami Art Week, the Pérez Art Museum Miami (PAMM) hosted a two-day live streamed event: the WOPHA Congress: Women, Photography, and Feminisms. Organized by Miami arts non-profit Women Photographers International Archive (WOPHA) 1, the congress drew hundreds of in-person attendees and online spectators around the world to presentations by photographers, journalists, poets, historians, and curators. The WOPHA Congress marked the first international convening on the practices of women and gender non-conforming photographers and photography collectives.
Becoming Sisters: Women Photography Collectives and Organizations2 is a 2021 photo book that was published in tandem with the congress; the book serves as a "registry and collective manifesto of 40 international women and non-binary collectives [..] and 98 women-identified and non-binary photographers reframing the dominant narratives of photography history." Participating collectives include femLENS (Estonia), Fotógrafas del Norte (Monterrey, Mexico), Unexposed Collective (Australia), UK Black Female Photographers (London, UK), Wildfires (Scotland), and Donne Fotografe (Bologna, Italy).
As editor and translator at WOPHA, I worked for two years alongside talented colleagues, partners, and participating artists on the production of the congress and its photo book. The photo book, elegantly designed in the congress' violet and indigo color palette3, offers a sumptuous range of landscape photography, portraiture, archival collage, street photography, performance, and self-portraits. Interspersed throughout are four thematic essays by WOPHA founder and director Aldeide Delgado. I've selected the titles of these essays to frame vignettes below on the labor of presenting this feminist, transnational gathering; transformed in its vision and in practice by the pandemic and social justice movements here and abroad.
El Picnic (by photographer Nereida Garcia Ferraz in collaboration with Laura González Flores and Eugenia Vargas Pereira) on the cover of Becoming Sisters: Women Photography Collectives & Organizations.
Photographers Laurie Simmons and Jennifer Greenburg from the photo collective Femxphotographers in Becoming Sisters: Women Photography Collectives & Organizations.
Togethering: A Non-Patriarchal Model of Photography
Women Photographers International Archive (WOPHA) was founded in 2019 after founder Aldeide Delgado transitioned from her online project Catálogo de Fotógrafas Cubanas (Catalogue of Cuban Women Photographers), launched during her studies and work in La Habana, to embrace a broader scope after relocating to Miami in 2016. WOPHA's "core commitment [is] to promote and research, in partnership with other organizations, the plurality of female, trans, queer, and other non-binary voices in photography."4 Based in a Caribbean diaspora city, WOPHA is "currently documenting the diverse artistic production of Latin American and Latinx communities."5
The organization is run through generous volunteer efforts and a lateral structure, embracing mutual care and solidarity. To date, WOPHA has led photo and portfolio review workshops, curated exhibitions, published art reviews, and hosted artist residencies with local partners Faena Hotel Miami Beach (Amanda Bradley), The Betsy Hotel (Nadia Huggins), and Jorge Pérez's El Espacio 23 gallery (Adama Delphine Fawundu). The WOPHA team is composed of emerging and mid-career artists; honoring this, we openly share projects with one another, invite collaboration, and work alongside and contract South Florida-based women and non-binary arts practitioners to present or document our programming. The conscious intention behind this form of togethering and shared authorship is offering platforms for growth and visibility of work for one another in an industry where "globally, 70-80% of photography students are women — yet they account for only 13-15% of professional photographers."6 How do we in good faith celebrate the visual culture of the present moment, if we perpetuate the continued loss of self and the loss of paid labor for othered artists in 2022?
Building a Feminine Sphere of Reception in Photography
Originally slated for 2020, the pandemic affected the production of the WOPHA Congress in more ways than one. A central champion on the congress advisory board7 was the celebrated New York Times columnist and historian Maurice Berger, who passed at the age of 63 in March of 2020 from the coronavirus.8 This sobering loss cast a cloud of mourning over the congress planning.
Postponing the congress to 2021, the team at WOPHA re-envisioned support, community care, and accessibility of programs. Rather than turn inward, Delgado curated a pre-congress Zoom panel series titled WOPHA With, which was organized by Community Coordinator Amanda Bradley. Artists and leaders of grassroots collectives who had been invited to participate in the congress were asked to log into virtual roundtables. Alongside colleagues from Brazil, France, Chile, the UK, attendees showcased their work and shared perspectives, struggles, and approaches toward inclusive curation, securing funding, volunteer labor, gender, and censorship. These conversations earnestly centered women and gender non-conforming participation and authority; in turn, they inspired several of the congress's panels, such as 'Documentary and the Power of Imagination', which explored the physically and financially precarious work of photojournalists.
A Meeting Place for Photography
During congress planning, we were confronted with how to reconcile the palpable energy of 'coming together' in person with the pandemic. The team was opposed to a blasé and exclusive 'return to normalcy'. Disability rights groups and crip theorists have for generations challenged a status quo that limits participation by people with disabilities; yet, true efforts toward accessibility in arts programming since 2020 have come to the fore as not only a matter of justice but of economic survival. Over the course of 2021, we realized many invited international presenters were on shaky ground to travel to the United States over visa restrictions and health concerns. Recognizing the external and internal justifications for a hybrid, international model, we insisted that the congress in its entirety include live translation services, virtual presenters and audiences (facilitated by PAMM and WOPHA's talented audiovisual staff)9 and found, ultimately, the event model dramatically amplified our engagement and documented it for posterity. Most importantly, the WOPHA Congress signified a decentralized, virtual meeting place for photography undeterred by physical and political bounds.
Deb Willis presenting the 2021 WOPHA Congress Keynote Lecture at PAMM. Photo by Diana Larrea.
Deb Willis presenting the 2021 WOPHA Congress Keynote Lecture at PAMM. Photo by Diana Larrea.
Photography as a Collaborative Tool for Connecting and Creating Community
The cover of Becoming Sisters features a washed-out photo of two shirtless individuals squatting in grassy sand among a wicker picnic basket and scattered Polaroids. The inside flaps of both the front and back covers of the photo book reveal close-up scenes of the subjects—Nereida Garcia Ferraz in collaboration with Laura González Flores and Eugenia Vargas Pereira—and their Lake Michigan beach day in 1989. The photos conjure themes of body, landscape, and documentation, like those explored by artist Ana Mendieta, who had created pieces for her Siluetas series10 at the same Indiana Dunes State Park earlier that decade.11 These three Latina photographers co-created this series, titled El Picnic, as a genuine gathering, experimental photo project, and archive of togethering. In the first essay of the WOPHA Congress photo book, curator Aldeide Delgado argues that the three artists "were simultaneously authors, participants, and spectators in the event of photography", challenging stubbornly dualistic conventions of artist-subject, expert-novice, and viewer-viewed. (Indeed, scholar and artist Deborah Willis' keynote lecture for the WOPHA Congress, "Returning the Gaze: Portraits to Self-Portrait", anchored the entire event with a discussion of women reclaiming power by shifting roles from passive subject in portraiture to active self-/collective portraiture.)12 Thirty-two years after El Picnic, Garcia Ferraz, González Flores, and Vargas Pereira came together for the first time since the project, sharing the stage with Delgado at PAMM to discuss the work and its lasting impressions. In an act of collective memory and sharing, the artists sat once again on the other side of a camera lens—this time, without the physical trace of a Polaroid, their words beamed through YouTube to Argentina, Poland, Los Angeles, Hong Kong…
1 WOPHA is run by Aldeide Delgado, Francisco Masó, Kim Yantis, Amanda Bradley, Francis Oliver, Amy Rosenblum-Martín, and Andrea Sofía R. Matos. Visit wophacongress.org to read the bios of all participating event organizers.
2 Edited by Ana Clara Silva and Aldeide Delgado, with editorial assistance by WOPHA Communications Intern and photographer Andrea Sofía R. Matos. Nominated for the 2021 Lucie Photo Book Prize as an Independent Category Finalist, luciefoundation.org/lucie-photo-book-prize/
3 Designed by Mỹ Linh Triệu Nguyễn of STUDIO LHOOQ, with guidance from WOPHA Creative Director and co-founder, artist Francisco Masó.
4 wopha.org/about/
5 wophacongress.org/, "About the Organizer
6 Female in Focus Exhibition, Fast Forward: Women in Photography, https://fastforward.photography/opportunities/female-in-focus-3/
7 Along with Mane Adaro, Idurre Alonso, Alpesh Kantilal Patel, and Marie Vickles
8 "Maurice Berger, Curator Outspoken About Race, Is Dead at 63", March 26, 2020. The New York Times. www.nytimes.com/2020/03/26/arts/maurice-berger-dead.html
9 Andrew Byrd, Denise Faxas, and the CSP Media Group
10 Solomon R. Guggenheim Foundation, Collection Online. 'Ana Mendieta, Untitled: Silueta Series'. www.guggenheim.org/artwork/5221
11 Nereida Garcia Ferraz, a friend of Mendieta's, directed the biographical documentary film Ana Mendieta: Fuego de Tierra, 1987. For a recent discussion on the film, see this interview of Garcia Ferraz and fellow director Kate Horsfield, published by the Met on October 20, 2021. metmuseum.org/perspectives/articles/2021/10/from-the-vaults-remembering-ana-mendieta
12 See Deborah Willis' 2009 portrait of photographer Carrie Mae Weems gazing at herself in a hand mirror in a beauty shop, Carrie at Euro Salon, Eatonville.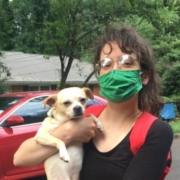 Francis Dalena Oliver
Francis Dalena Oliver is a cultural researcher, editor, and proofreader based in Athens, Georgia. She previously worked in collections management, archival research, oral histories, curatorial assistance, and artist residency supervision at the Deering Estate museum and ecological field station in Miami, Florida. She is interested in the intersections of public history, archives, cultural geography, political ecology, diaspora studies, and contemporary art.