Strange Bodies, Strange Days
By Jason Katz
April 8, 2022
Burnaway
Miami is a forum for physicality; clubgoers only cease their ululations to make it to their yoga class on a rental scooter; the overtanned leatherback beachgoer; a profusion of plastic surgery. It's no wonder that South Florida artists might want to reflect on the presentation of bodily forms. Dysmorphic creatures and humanoid characters abound in the gallery space of Liberty City's Collective 62, where Jeanne Jaffe and Jen Clay's group exhibit Strange Bodies, Strange Days is on view.
Upon entering the space you are immediately greeted by two figures: one is an at least ten foot tall blonde-haired doll-ish figure with her hands extended. According to artist Jeanne Jaffe, she is Alice but instead of wonderland she has found herself in the post-apocalypse of the present day. In her long-fingered hand, she holds a phoenix rising from the ashes. Alice's lungs are sewn onto her blouse, insides exposed in the style of a Frida Kahlo self-portrait. Jaffe wants the observer to consider not only how we've shifted identities and physical forms since the pandemic (not over) began but also the necessity of reinvention.
Jaffe took me to her studio space after visiting the gallery where we watched her stop motion animation called Alice in Dystopia. Whenever she creates a body of work, she also creates the world in which it exists. Our giant, ghost-like Alice character reanimates an extinct Dodo bird from the bones of its ancestors. Though it's easy to focus on Miami as a canary in the coal mine of ecological disaster, it's just one of many places under threat. Jaffe chooses to stay off the nose, deftly using a specific non-regional example of environmental damage to make her point.
Gallery View of Jeanne Jaffe's Alice and the Phoenix. Courtesy of the artist.
Still from Alice in Dystopia. Courtesy of Jeanne Jaffe.
According to the artist, a lot of this work was created in isolation – a deep look inside. Though, upon visiting, I am taken by just how agreeable and collective the environment of Collective 62 is. Under the direction of artist Nina Surel, the place is in bloom. There are individual artist spaces, gardens, and a ceramic studio and kitchen where people come together. It's a place dedicated not only to art but also to healing. This irony is microcosmic of making art in a place like Miami during a pandemic.
Despite isolation, Jaffe and Jen Clay came together to create a group exhibit; it wasn't planned this way but their work seemed in conversation – their strange bodies existed in the same universe. Clay's series of Fruiting Bodies also greet you upon entering the gallery space. They are less human and more monstrous. Haunting, yet sweet like characters from Where the Wild Things Are. Both of the artists' work possess this fairytale quality.
Still from Alice in Dystopia. Courtesy of Jeanne Jaffe.
Clay imbues her work with "a sense of childhood friendliness." Clay's practice focuses on the Other, the uncanny and the inhuman. "I grew up in the rural south where people were scared of the other," she tells me. Early in her career she would create monsters and place them along the road, with hopes that somebody might report a paranormal encounter. She cites cosmic horror as a major influence. The bodies she created for the Collective 62 show are sewn together by hand and inscribed with hidden messages.
"'i'm worried for you"
"until only i remain"
"i'll be the last bad thing to happen to you"
On their own, the phrases are cryptic, even sinister; but served with a teaspoon of sugar. These phrases reflect the broader themes of the show: the darkness of our present, changing identities, and reattachment to physical forms. They also reflect Clay's desire to animate her own feelings of depression and anxiety. "What if I could make uncertainty approachable?" she asks me. During the pandemic she had to adjust her normal practice of making her hand sewn monsters wearable. They turned into weighted figures on their own.
She calls them Fruiting Bodies because they grow from her the way mushrooms do. "My feelings are like an alien living inside of me," she tells me. By conveying her own feelings onto these monsters, Clay hopes to make them approachable.
Strange Bodies, Strange Days is on view at Collective 62 in Liberty City thru May 31.
Gallery View of Jen Clay's Fruited Bodies. Courtesy of the Artist.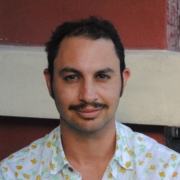 Jason Katz
Jason Katz is the Contributing Editor for Miami. Miami-born and raised writer and educator, Katz publishes Islandia Journal, a printed literary magazine of (sub)tropical myth, folklore, cryptozoology and the paranormal. His work has been featured in the Miami New Times, Bitter Southerner, Saw Palm, Miami Magazine, Miami Rail, and the Seminole Tribune.