The Abstract Painting of Miami artists Loriel Beltrán and Tomm El-Saieh
BY Douglas Markowitz
March 17, 2022
Burnaway
In a way, it's hard to call what Loriel Beltrán does "painting." He uses paint, certainly, to make his artworks, but the protracted, pain-staking process he utilizes does not resemble painting in any traditional sense. He does not put brush to canvas. First, he pours latex paint into a basin and lets it dry. Then, using a specially made lathe, he cuts the dried layers of paint into strips. Finally, he pins each strip onto a wooden board, one after another, in a specific sequence of colors. It takes months, sometimes years, to create a single piece.
And yet, the results, recently seen at Loriel Beltrán: Constructed Color, the artist's solo museum debut at Miami Dade College's Museum of Art and Design, are simply stunning. The variations in color and thickness of each paint stripe combine to create an optical illusion effect, with the various imperfections that result from the long production stage enhancing this mesmerizing spell. These are works that must be seen in person, not just through photos, to be truly experienced and understood — one reason being that when you look at them, they look unreal in a digital way, as if you're viewing a distorted image on a computer screen. They appear as though some programmer could have coded a pattern into a 3D printer that squirted the result onto the board. And this "digitalness" is rendered all the more ironic with knowledge of the very corporeal, non-digital — "medieval," as Beltrán deadpanned to me during a studio visit – method by which they are made, by the considerate hands of a breathing artist.
"The resolution of the real, you know, it's still better than the resolution of any screen," Beltrán says. "People think of screens or (that) they have this sort of screen-like quality. But I think of the screen more as a field of possibilities, right? So they are screens but in a very different way."
One also arrives at a certain digitalism through the process of interpreting and understanding these works, of running through the field of possibilities they present. Beltrán frequently alludes to an interest in systems, and one way to try and understand this is by utilizing one's own mental web. The longer, the deeper one looks at these paintings, the more one begins to search mind and memory for real-world equivalents. The brilliant violet-fuschia gradient of "OBSDV" resembles a sunrise, the dark scratches across its bottom half forming clouds. I see the cracks on the surface of "OWBSDW" and recall the rock walls I saw while living in Arizona, the layers of strata in the Grand Canyon and the vivid badlands of the Painted Desert. And then there's the dense, bright primary color pattern of "FSLTD," the most razzle-dazzle of all Beltrán's paintings, and the one with the most visible scarring. Looking at it brings to mind some totally unnatural associations: the iridescence of a puddle of gasoline on asphalt, or the shimmering pattern on a cracked LCD TV screen.
Loriel Beltrán, OBSDV, 2020–21, latex paint on panel, 70 x 155 inches (177.8 x 393.7 cm). Photo by Zachary Balber. Courtesy of the artist and Central Fine, Miami Beach.
In truth, though he's been making these strip paintings since 2009 at the earliest, much of Beltrán's work prior to 2016, as both an artist and as a curator at the influential artist-run Miami gallery Guccivuitton, was more concerned with building a local context around art in Miami. Co-founded by Beltrán with Domingo Castillo and Aramis Gutierrez, the gallery aimed to recontextualize the city's artistic output while satirizing its tendencies toward conspicuous consumption and bad taste. They had to rename it several times owing to copyright trouble, settling on the name Noguchi Breton before closing for good in 2016; but also managed to stage several important presentations: a Purvis Young show that aimed to cast off the canonical Miami artist's unearned reputation as a wacky street painter; a landscape-focused show that rehabilitated the Highwaymen group of African-American painters, raising their profile and leading to a full retrospective at the Orlando Museum of Art; and a group show at the fledgling Institute of Contemporary Art, Miami. Using the ICA's then-temporary location at a former department store in the Miami Design District, then and now a glitzy outdoor mall home to luxury brands such as Gucci and Louis Vuitton themselves, they presented the artworks as items for sale, thereby mocking both their flashy surroundings and Miami's embrace of art world marketization. Beltrán's own artistic explorations in this period include a series of paintings on magazine pages, wherein the artist covers the glossy ads and fashion editorials with distorting blotches of paint. Prior to this, in a group show at the former Miami Art Museum (now the Pérez Art Museum Miami, aka PAMM), he riffed upon the extravagant architectural habits of South Floridians with a group of 2001: A Space Odyssey-style monoliths constructed from leftover marble countertops, scavenged from forgotten housing stock abandoned after the 2008 financial crisis, atop plinths of molded concrete in the Spanish Colonial-revival style favored by many Miami-area homeowners.
With these new works, Beltrán himself resists the easy categorization of "abstract painting" both because he feels it flattens his intentions and because he doesn't see them as images, instead considering them as objects. "You're just looking at an object that's been dissected," he remarks. "This has this whole idea of like, labor and production, there's all this baggage that that carries where a flat surface doesn't have that."
Still, within the "Constructed Color" series one can unmistakably sense the DNA of canonical abstract painting. In Beltrán's studio one can find books on Agnes Martin, Gerhardt Richter, and Sol LeWitt among others, and one of the pieces in the exhibition, the shadowy, poisonous-looking "Luminous Black," takes obvious inspiration from Barnett Newman's similarly-named series of dark color fields that reveal chromatic secrets upon close inspection. He also betrays a desire to "move painting to an extreme" with the series, a motivation that plenty of artists have used in the past. He favors the work and methods of the African-American painter Jack Whitten and his explorations into the effects of crafting one's own tools and "bringing the idea of laboring to canvas." Also mentioned is Lynne Golob Gelfman, a New York-trained late modernist who lived most of her life in Miami and spent time in Colombia, with all three locations influencing her work. Noguchi Breton gave her a solo show as their final presentation before closing; PAMM gave her a retrospective two years later.
Installation view of Tomm El-Saieh (Institute of Contemporary Art, Miami, Dec 1, 2017-Oct 22, 2018). Photo: Fredrik Nilsen Studio
Beltrán also mentions another source of inspiration that should not go unremarked upon: the modernist and abstract painters of his own homeland, Venezuela, from which he emigrated at the age of 15. "There's this history that I have etched in my brain, right? Like, a lot of Venezuelan art, it's everywhere in Caracas. And so it's something that you already understand." He also says his paintings are "very much a reaction against that in many ways. I mean, that work is very rigid and rational, you know? It's very much about this modernist utopianism." Indeed, the brochure for "Constructed Color" mentions Alejandro Otero, who favored geometric work, and Carlos Cruz-Diez, a famous practitioner of op-art.
More importantly, working with and against the traditions and conventions of his homeland puts him in a similar camp as Tomm El-Saieh, another Miami artist. El-Saieh was born in Haiti into a family that owned one of the country's few fine art galleries; thus, he spent much of his youth immersed in the island nation's artistic heritage. His own large-scale abstract paintings, which feature vast arrays of colorful, organic shapes that resemble fields of flowers, are the result of these investigations into Haitian art.
These similarities between the two artists are significant, especially in the context of Miami. They are both immigrants from Caribbean nations who lived, worked, and went to school in Miami (specifically, both graduated from the New World School of Arts) and currently share representation at the same gallery (Central Fine, which, like Guccivuitton, is artist-run). They both engage with the artistic legacies of their birth nations in their own practices. And they both, as a result of these engagements, have independently arrived at a purely abstract – that is, devoid of figuration – style of painting as an answer to their own investigations. There has never been a "Miami school" of art, let alone one of abstract painting, only individuals working on their own unique visions in isolation. The same is more or less true of Beltrán and El-Saieh, but the fact that they have so much in common is perhaps an encouraging sign of change.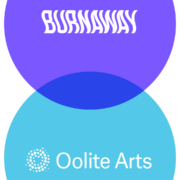 Douglas Markowitz
Douglas Markowitz is a writer and editor covering art, music, film, and travel. Currently based in Miami, his work has also appeared in publications including Miami New Times, Time Out, and Phoenix New Times, where he served as culture editor. Find him at clippings.me/dougmarkowitz.