The Memory on Her Face, at Voloshyn Gallery, Miami
By ELISA TURNER
March 11, 2022
Burnaway
In early February, I visited The Memory on Her Face, a pop-up exhibit in Miami of contemporary art from Ukraine, and pondered its resonance here; the show offers many connections to Miami as a city of immigrants. Art here, inspired by free expression and in protest against political oppression has been presented in many languages. With Russia's February 24 invasion of Ukraine, this exhibit from Kyiv-based Voloshyn Gallery underscores the country's bold resistance to Russia.
A brief history lesson: In the post-war reshaping of Europe, Ukraine became part of the Soviet Union. When the Soviet Union dissolved, Ukraine became an independent country in 1991, only to see its boundaries contested by Russia in 2014, both with Russia's annexation of Crimea and the Donbas War against Russian forces.
In The Memory on Her Face, Voloshyn presents recent works by Nikita Kadan, Lesia Khomenko, Nikolay Karabinovych, Maria Sulymenko, and Oleksiy Sai. They reveal a determined, at times fierce, and thoughtfully nuanced portrait of political and social resistance in photography, video, painting, and sculpture. The curator for this exhibit is Omar Lopez-Chahoud, artistic director and curator of Untitled art fair. Lopez-Chahoud explains that the title is a "poetic metaphor" for Ukraine's history as once part of the Soviet Union, acknowledging that a country has often been represented as a woman, a nurturing figure like Mother Earth. Think of "Lady Liberty" in this country or, ironically, "Mother Russia."
Maria Sulymenko, Unitled 21, Courtesy of Voloshyn Gallery.
In Nikita Kadan's series A Broken Flag Pole, his work "Untitled" shows a black and white photograph printed on diaphanous white silk lightly mounted on black metal. It documents a building bombed in 2014 in Ukraine's southeastern region of Donbas. A lone figure trudges past the urban ruin. This haunting mix of fragile and sturdy materials evokes Ukraine's challenged sovereignty. It refers specifically to battles in the Donbas region, but recalls scenes of World War II, a prescient image now, since the current Russian invasion is creating such chaos that journalists have compared it to those war-torn years in Europe.
Oleksiy Sai's "Untitled," a digital print mounted on aluminum from his series Bombed, almost resembles an abstract painting. Close inspection reveals it shows a map mutilated with so many pockmarks shaped like bullet holes that its geographical references are basically nil; it represents Ukraine battered by military aggression. Gallery director Julia Voloshyna explains in an email that the series began in 2015 when the artist examined satellite images of bombed territories in eastern Ukraine on Google Maps.; it will continue as long as shelling continues, and as long as media provides such information.
Figurative painting by Khomenko and works on paper by Sulymenko are eloquent statements, depicting distorted, solitary figures in confining spaces. Sulymenko's two works on paper in watercolor and gouache each show single figures with faces betraying minimal features as if their individuality has nearly been scrubbed beyond recognition. Both appear to be positioned in a windowless prison cell. One figure is missing an arm, while the other arm is elongated to an absurd length, implying grotesque torture. Elegant minimalism blurs into the territory of cartoon-like sketches left on prison walls by dissident inmates. Like other works exhibited here, these are images of persistent but fraught resistance, severely apt for a proud country fighting to repel an invasion.
The Memory on Her Face is on view thru March 28 at Voloshyn Gallery, Miami.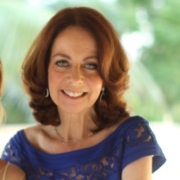 Elisa Turner
Winner of 2020 Rabkin Prize for art journalists. Contributor to Art Burst Miami. Have written for Burnaway, Delicious Line, Hamptons Art Hub, Hyperallergic, Miami Herald, and other publications.