The Pilgrimage of the Soul
By Kathia St. Hilaire
June 8, 2022
Burnaway
The Pilgrimage of the Soul is Kathia St. Hilaire's first public artwork. Commissioned by Fringe/Public Color, and on view at 148 East Flagler Street in Downtown Miami, the mural memorializes the Brooklyn and Miami-based artist's Haitian culture and vitality whilst interrogating the mural form. On display through November 2022, the illuminating artwork re-interprets celestial accidents and fate through its large format and Icarian themes.
Living between Brooklyn and Miami, and earning her MFA from Yale University, St. Hilaire's upbringing was influenced by African American and Caribbean subcultures and artists such as Mark Bradford. She uses carving, painting, relief printing, as well as sewing in her artistic practice. Her art accepts organicity; it's not unusual for her to paint over sediments since her prints first dry outdoors.
St. Hilaire conceived The Pilgrimage of the Soul as a recollection, from childhood memories of church and religious postcards, while also giving a new life to her family's backyard. The artist imagines a firmament, searching for the space where angels are said to populate and from which they attend to our lives.
Using carved linoleum, the artist depicts children, adults, and angelic figures in textural complexity. The mural's background includes motifs of sugarcane and a collage of beauty supply ads. In the upper part of the mural, three groups—as if a chorus—watch as men fall from the sky. In the mid-section, children hold hands, forming a dynamic circle around damned silhouettes. The mural's lower section, characterized by a feeling of attentive expectation, features more witnesses. Above, a reigning sun breaks through clouds and a divine Black character watches the scenes with hands in prayer position.
By nature, The Pilgrimage of the Soul embodies diasporic displacement and recomposition. St. Hilaire worked in separate studios and conceived the artwork as individual 18″ x 24" oil-based relief prints that she carried in a suitcase and assembled in Downtown Miami for a late 2021 reunion. She only saw the mural's final rendering once hung. The mural's origin story brings to mind Giles Deleuze and Félix Guattari's assemblage theory, centered on connectivity and relationships.
Kathia St. Hilaire, The Pilgrimage of the Soul, 2021. Courtesy the artist, Fringe Projects, and Perrotin. Photo by Zack Balber.
Spiritual sources of inspiration infuse The Pilgrimage of the Soul. St Hilaire inscribes her work in the tradition of Mexican mural painters, such as Diego Rivera, who sought to create art for the people, irremovable art. "Murals cannot be moved—unlike painting and tapestries—and therefore cannot be brought and put in private homes," she noted in a recent interview.
St. Hilaire further analyzes the resonances between murals and other media, saying she wanted to create "something that looked like tapestry and function[s] as a mural or a sculpture," embracing the notion of trompe-l'oeil, an artistic technique that seeks to render two-dimensional works in three dimensions. She is considerate of the ways in which viewers interact with her work's skin-like surface. Professionally trained as a printer, she struggled with figuration; yet the mural embraces the pictorial, symbolic, and material in a way which feels self-evident.
With The Pilgrimage of the Soul, St. Hilaire captures a cultural landscape—from the depth of syncretic religious symbols to the ephemeral standards of beauty. Her public art is generous and anchored in a Caribbean diasporic imagination. It outlines perspectives on iconophilia, redemption, forgiveness, and exulting love.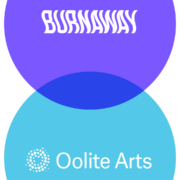 Farah Abdessamad
Farah Abdessamad is a writer and art critic, at work on a collection of essays and a novel.