Memories at Pan American Art Projects
By Sergy Odiduro
May 25, 2022
Burnaway
See through suitcases filled with aging mementos that serve as portals to the past. An empty table set with delicate china where no one sits. A whimsical dog figurine answering nature's call. The line between what is real and the echoes of reflection are often blurred in Memories, a new solo show of work from Lisandra Ramírez. Now on view through June 4, the mixed media exhibit, created by the award winning Cuban artist, stands as a reflection on time.
Ramírez graduated from the San Alejandro Art Academy of Havana and from the Superior Art Institute of Havana. Her work has been showcased in solo and group exhibitions and she also received a public commission for a sculpture feature at the entrance to the Havana harbor. In Memories, she uses her pieces to convey a number of important messages to the viewing audience. "Objects tell a story and they are containers of life for a person and so it's very important for me to use them as a communicator and as a kind of bridge between stories," said Ramirez during an interview in late March. Her answers were translated for me by Fernanda Torcida, associate director of Pan American Art Projects. I also had the opportunity to speak with Gabriela Azcuy, the guest curator for the show.
Azcuy noted the diverse range and exploration of materials used in the exhibit. "You will see in the show digital prints, sculptures made from bronze and sculptures made with fiberglass," she said. "You have plexiglas suitcases and watercolors and China. So all these are different materials and use different techniques." This includes pieces that offer a Japanese flair.
"Mutt", "Gold", "Arcobaleno" and "Territorial Waters" utilize a blend of resin, mirror and acrylic among others. The pieces add a playful tone to the exhibit and feature typical elements of Japanese animation and style."In our childhood, during the late 80s and the beginning of the 90s we had a lot of influence of Japanese cartoons," recalls Ramirez. "We grew up with all kinds of anime and manga at the time."
Lisandra Ramírez, Arcobaleno, 2021. Courtesy the artist and Pan American Art Projects.
Other pieces are carefully selected and pay homage to beauty, craftsmanship and the precious quality of keepsakes. From her El Instante Que Nos Une series, is a piece composed of digital print on plexiglass, China and cutlery and silver plate, which features an elegant place setting that it is more than meets the eye.
The table is uniformly set but upon closer inspection there is a menagerie of plates, bowls, cups and other cutlery. The discerning eye will note the variety of patterns presented and the use of color accents against a backdrop of flowers throughout. The interrelationship of images interspersed with actual physical plates is intriguing but nevertheless, the total effect is graceful and picturesque.
Azcuy notes how Ramirez's work is unique in its presentation and its message. It is a commentary on how objects from the past influence the present and the future, while also offering a celebratory look at that which is maternal.
"The works are so femme oriented," she said. "They're very subtle and fragile. And for me, that's such a sweet spot in my heart. Seeing the porcelain reminds me of my grandmother, and heritage and family and where we come from."
Ramirez hopes that others will be able to capture the essence of her message. "Each piece is about self reflection, a little debate about myself or my environment. But I don't think it's about me. I'm just the person who uses them to tell stories."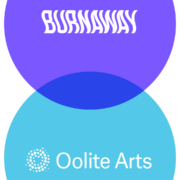 Sergy Odiduro
Sergy Odiduro, a Brooklyn, New York native, is a freelance journalist and producer. Most recently, she was a production assistant for Haiti Journal, a Miami-based public affairs program on WPBT Channel 2. Prior to this, she was a community news reporter for Forum Publishing Group, a subsidiary of the Sun Sentinel. She was also a broadcast journalist at Radio Soleil D'Haiti In New York.