Yanira Collado's Alchemic Chants / Reliquías Fragmentadas
By Alexandra Martinez
February 15, 2022
Burnaway
It's not easy to find images of the now defunct Port au Prince Supermarket. Established in 1994, the Little Haiti bodega once existed in the squat single-story building where contemporary art gallery Emerson Dorsch now lives. When artist Yanira Collado was preparing for her first solo show, "Alchemic Chants/Reliquías Fragmentadas" at Emerson Dorsch gallery, she felt it was important to reference the building's history as part of the Little Haiti community. Gallery director, Ibett Yanez del Castillo, found a timeline of photos using Google street images that went as far back as 2007. The static images paint the neighborhood's story of change on their own.
At first, the bodega was a vibrant canary yellow decorated with painted-on Caribbean flags. Over time, the yellow and flags were covered by a diluted cornflower blue. Today, the walls at 5900 Northwest Second Avenue are bare white. As the art masses migrated to the neighborhood in 2016, Emerson Dorsch purchased the building. They rehabilitated the edifice except for the back block wall and the vinyl flooring which remain as relics of another era, a veneration of the collective memories stored in between layers of concrete and cement. In the face of inevitable change and displacement, memories find a home in the relic. Collado explores the ideas of migration, reliquary, and memory through construction and ritual.
Collado was born in Brooklyn and traveled frequently between the states and the Dominican Republic where her parents were born. They eventually landed in Miami, where she grew up watching her uncle build additions to their home, including a makeshift sewing factory for her mother and aunt to work from. They were seamstresses and Collado would watch them construct garments out of fabric. The experience embedded in her that modes of construction could be tools to understand culture and our histories—leaving evidence behind for future generations to explore, analyze and interpret.
Collado's show recently closed but it warrants reflection. When guests entered into Collado's exhibit, they walked through a narrow hallway meant to mirror her childhood home. Inside, she recreated its' floor plan while referencing the gallery building's own in a sprawling and towering platform that consumes almost the entirety of the gallery's walking space. The piece is assembled with layers of cardboard and stucco, stuffed with strips of textile fabric, an ode to her familiar upbringing. On top, Collado has intentionally yet intuitively placed relics that she has collected over the years, some as long ago as 1994.
Yanira Collado, Alchemic Chants / Reliquías Fragmentadas. Courtesy Emerson Dorsch Gallery. Photo by Francesco Casale.
Yanira Collado, Alchemic Chants / Reliquías Fragmentadas. Courtesy Emerson Dorsch Gallery. Photo by Francesco Casale.
One item is a conjoined pair of apple snail shells which she collected during a residency in New Orleans. There, she learned about the invasive species that has devastated local populations and eaten the plant barriers. Collado has paired them in a yin-yang pattern, their beauty and destructiveness interplaying, questioning the promise that the removal of people in communities is that something better will come, but at whose expense?
Collado moves the pieces as she sees fit like a ritual prayer at an altar. The unseen is just as important as what is seen, as forms of embedded prayer. In a corner closest to the doorway, Collado has placed a comparatively compact and minuscule azure cube, which could be an obelisk for the tiny unseen creatures that dwell on the vinyl floors. Inside, she's placed a piece of cuaba soap, a quintessential item in Dominican households. It's a protective totem for the memories and experiences housed in the space. If a reliquary is a container for relics, then Collado has created a meditative space and posits – in the midst of change and migration — that memories persist through objects.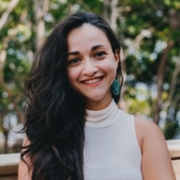 Alexandra Martinez
Alexandra Martinez is an arts and culture writer based in Miami, FL. Her work has appeared in CNN, Vice, and Catapult Magazine, among others. Outside of the arts, she reports on immigration, the economy, and gender justice as the Senior News Reporter for Prism. Find her at alexandra-martinez.net
This essay was published in partnership with Oolite Arts as part of a project to increase critical arts coverage in Miami-Dade County.