By Monica Uszerowicz
July 7, 2022
Burnaway
Ten feet below the surface of the water, the sunlight is bright and clear and illuminating a brilliant expanse of blue. Parrotfish flutter and sometimes billow like flower petals, caught in breezes that break the surface. A manatee and her calf lumber along, two soft-snouted lugs; a mound of coral makes a mountain of itself, dotted with algae and seaweed the color of poppies. Glimmering, all of it, and silent—a feast for the eyes, a balm for the ears. Just miles from the detritus of runoff and cruise ship exhaust, it's another world, deeply affected by the exigencies of our own and entirely disinterested in them.
I am watching the livestream from the Coral City Camera, a 360-degree underwater camera located ten feet deep in an urban reef at PortMiami's east end, in Biscayne Bay. The camera was placed by Coral Morphologic, a collaborative duo—marine biologist Colin Foord and musician Jared McKay—dedicated to the study, preservation, and artistic presentation of Miami's corals. The camera is synecdochic, a representation of everything Coral Morphologic has worked for since their founding in 2007: a test site, an artwork, a visual therapy. The livestream has been projected for visual ambience at Design Miami and in varied museums and exhibitions, like Nicole Salcedo's Ebb & Flow; because the tip of the port is federally protected and lined with rocks planted in 2011, it also functions as a research lab, examining Miami's aquatic life over the last decade—one of the worst ever recorded for the city's waters. Many of the corals were rescued by Foord and other divers from a reef that was dredged during PortMiami's Deep Dredge Project. Some relocated on their own. "We can see the corals who are recruiting there, evolving in real-time," said Foord in a recent interview. "They're pioneers."
Foord and McKay are longtime friends from New Hampshire, but Miami—which they call the Coral City—is home. When Foord was five, he saw brain corals for the first time while snorkeling in Cancun; on the trip back, his suitcase was overloaded with them. "I was like, 'It looks like a brain. I know what I want to do for the rest of my life.'" During his adolescence, McKay, then a young artist, lost his grandmother while his father grew ill, and Foord gifted him a coral aquarium to care for—nurturing the corals comforted and enlivened him. Foord attended the University of Miami, where his niche obsession flourished, and McKay joined him in the city soon after. "In Miami, our validity of intent makes far more sense," McKay explained.
Both Foord and McKay have known for years that Miami's urban corals are uniquely adaptable to the punitive conditions of the Anthropocene; they thrive in warming water and brutal toxicity, while other species bleach themselves in cleaner areas offshore. Coral Morphologic often conduct research on their own, with or without institutional support, driven by an impassioned love for the corals and an intuitive understanding that land-dwellers might learn a thing or two from the creatures' malleability. How odd, and how hopeful, to witness them finding ways to live as the empires above crumble and succumb to climate collapse—forming colonies, growing on highways and man-made islands built for the wealthy. The hypothesis was confirmed in a recent research paper, "Molecular Mechanisms of Coral Persistence Within Highly Urbanized Locations in the Port Of Miami, Florida," written by Foord in collaboration with scientists at NOAA's Atlantic Oceanographic Meteorological Laboratory and published in the research journal Frontiers in Marine Science. (Symbiotic brain corals alongside Miami Beach's MacArthur Causeway and Star Island were proven to have a unique symbiont—an algae living inside coral tissues—that's heat-resistant, stress-resilient, and able to consume its pathogenic attackers.)
Jared McKay and Colin Foord of Coral Morphologic.
Coral City Camera Logo. Courtesy of Coral Morphologic.
In music videos, short films, and large-scale projections, the boys have showcased Miami's fluorescent corals, spawning or eating or providing safe havens for sea life, colonizing the very structures threatening their existence. "The coral is an alchemical organism, part animal, part vegetable, part mineral," said Foord. "It's a timekeeper—their sexual reproduction is entirely mediated by where the planet is in relation to the sun and moon. Even when they're dead, their fossils are time capsules. They're the first city builders, the first astronomers. How do we not look to them for insight?" Corals are teachers—creating collectives of care, living in symbiosis—and ancestors; the bedrock of Miami, called Miami limestone or Miami oolite, is an accumulation of corals and other organic debris. (Years ago, Foord and McKay reminded me that although we live on top of corals today, if Florida sinks, the corals will build their homes in the ruins of our cities.) Coral Morphologic have consistently attempted to render the corals' wisdom accessible to the rest of us. "One of the ways in which science communication works is by instilling fear, which can cause people to disengage," said Foord. "Instead of pointing fingers and saying, 'You're destroying the planet,' we're behind the curtain, letting the corals speak for themselves." They are, said McKay, "communicating the lessons that you can learn from a coral. Then, people will begin to care more."
When Foord and McKay are spotlighted in the media, folks sometimes mention their hair: McKay's soft, tentacular curls, Foord's cerulean-blue spikes. They look like the beings they love, a special novelty. I've learned, though, that those of us who live close to the sea are always in symbiosis with it.
The presentation of Animal Collective's audiovisual album, Tangerine Dream, a collaboration with Coral Morphologic, was my first live experience of the latter's work. In kaleidoscopic and juicy color, images of the corals took over a massive theater, where viewers forewent formal seating to rest on the floor, as if the creatures were the night sky. I was entranced, then moved: beneath the city I loved, aglow with neon, buzzing with life, and so fragile to the cruel threats of climate change and developers looking to capitalize on it, there was a quieter, mirror-image world, rife with a far more optimistic sort of colonization. The life of that universe sustained this one; I wanted to protect it.
The Coral City Camera has the same effect; it's what Foord described as "an anchor to reality, in the midst of the Metaverse, to help people care about what's happening here." Here as in the sea, here as in the earth. For those who can't access the outdoors immersively, the camera is a means to remember "the water, the cradle of life," as Foord described it. The live stream is accompanied by a chat. Folks name the passing fish, share potential identifiers, wish each other good night. "There are dozens of people who can identify 95% of all the fish," said Foord. "Through this camera, they can make observations almost to a scientific degree. We're always trying to cut through the elitism that permeates academic culture." He hopes to someday build a network of these cameras, to "get people engaged by watching them collectively." McKay calls it "citizen science: we're trying to trigger wonderment first, some sort of awe. And then hopefully, that person will take it upon themselves to learn more—and ultimately, to care more." Perhaps it's easier to advocate for what you already love. On the Coral City Camera, the corals are the backdrop and rarely the stars, but take a closer look at their branch-like limbs, their mountainous terrain: they're the landscape, and they're growing.
Watch Coral City Flourotour, Morphologic's first in-ocean filming project documenting the fluorescent corals living near the coral City Camera. The Coral City Camera is on view at the Lowe Art Museum through June 2022. To learn about upcoming Coral Morphologic's projects, including a coral lab in Punta Cana and an artificial reef in Miami Beach, follow them @coralmorphologic.
A project supported by The Andy Warhol Foundation Arts Writers Grant.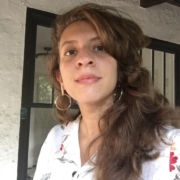 Monica Uszerowicz
Monica Uszerowicz is a writer and photographer in Miami, FL. She has contributed work to BOMB, Los Angeles Review of Books' Avidly channel, Hazlitt, VICE, and The Miami Rail.